It's impossible to separate underwater engineering from the research emerging from major universities. Indeed, this engineering discipline is proving central to the evolution of offshore wind power in the United States.
That's especially true at three Ohio universities, where researchers are building a scientific and engineering foundation for the development of offshore wind in the Great Lakes region. Since PMI is based in Cleveland not far from the shores of Lake Erie, we have interest in the success of our local researchers.
These scientists join a host of researchers around the country exploring the potential of offshore wind. Scientists and engineers also have explored the phenomenon of stranded energy in Alaska and weighed the potential of offshore wind along Florida's thousand-mile coastline. (Stop by ScienceDaily.com and search on the phrase "offshore wind"—you'll find a bevy of fascinating projects).
A quick review of these studies paints an impressive picture of the potential of underwater engineering to address the challenges of developing offshore wind farms.
Offshore in the Great Lakes
Case Western Reserve University, University of Toledo, and Bowling Green State University have tested potential wind turbine designs and modeled wildlife travels around installed wind turbines. And, a local company has won a $40 million grant to develop an offshore wind farm in Lake Erie about eight miles north of Cleveland. These two projects offer a window on the development of offshore wind in the U.S.
The Icebreaker Project. Lake Erie Energy Develop Corp. (LEEDCo) is spearheading the development of a six-turbine wind farm whose construction could start as early as 2018. It's called Icebreaker because ice is a serious winter hazard on Lake Erie—to survive, a wind farm must be able to fend off massive ice floes. But the project's importance goes far beyond underwater engineering. It's also a pilot project for tapping the massive resources of the U.S. industrial heartland—potentially creating a center for offshore wind manufacturing for the whole country.
Coastal Ohio Wind Project. This study united scientists from University of Toledo and Bowling Green State University to figure out whether offshore wind turbines in northern Ohio work better with two blades or three (two is a smarter choice, they concluded). They also studied migratory patterns of local bird species to assess the potential environmental risks of offshore wind on Lake Erie.
Stranded Energy in Alaska
Alaska's energy potential stretches far beyond its oil and gas reserves. The state also has ample tidal, wind, and geothermal energy resources, but there's a fundamental challenge: They're all stranded—either too far from the nearest population center or simply too difficult to develop economically.
A report from the Alaska Center for Energy and Power at University of Alaska-Fairbanks explores the challenges of stranded energy in Alaska. Areas with abundant wind, for instance, have few people to use it. The report raises another fascinating (if remote) possibility—moving energy-intensive industrial processes like metals smelting to sections of Alaska that have enough cheap renewable energy to make such a move economically feasible.
Offshore wind in the Sunshine State?
Florida has abundant coastline and coastal breezes, but how ready is it for offshore energy development?
"Florida's wide continental shelves and 1,197 miles of coastline present ample opportunities for siting wind farms outside of coastal view sheds," concludes a report from the University of Florida-Gainesville. The report notes that offshore wind in Florida could conceivably produce thousands of megawatts of power, though it recommends further research to derive more authoritative energy estimates.
"A systematic and thorough evaluation of Florida's wind resource is critical to identify the best opportunities for investing in the state's offshore wind energy resources," the report concludes.
The NNMREC
Recently, the Northwestern National Marine Renewable Energy Center (NNMREC) received a $40 million award from the United States Department of Energy to develop a tidal energy testing facilities along the Pacific coast. This project, the Pacific Marine Energy Center (PMEC), interacts with campuses across the coast, including:
The University of Alaska Fairbanks
University of Washington
Oregon State University
These different facilities are testing everything from wave flume to river energy converters. Over time, more testing facilities might be added to further build the PMEC portfolio and realize the goal of renewable wave technology.
Research will guide us forward
It's refreshing to see that researchers are undaunted by the considerable economic, ecological, and logistical challenges of developing offshore wind in the U.S.
At PMI, we'd certainly like to see the Great Lakes become a center of offshore wind technology, industry, and development. Our region has the wind, the skill and the industrial base to take offshore renewable energy as far as it can go.
And suffice to say if it can happen in the middle of the continent, it certainly can happen along the Atlantic, Gulf, and Pacific coasts.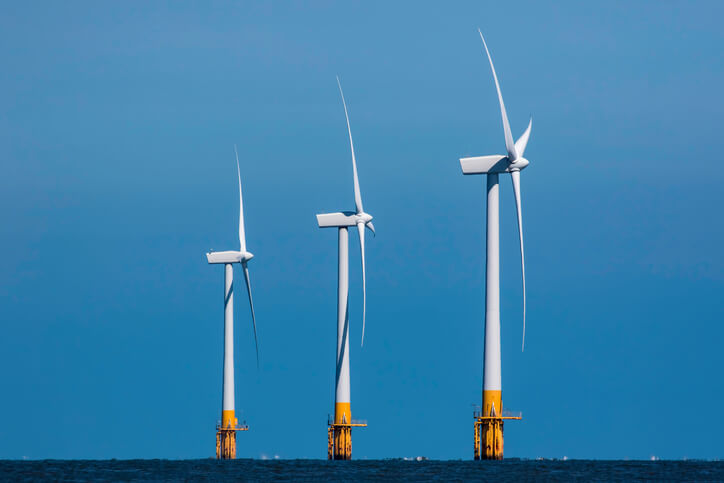 While Europe gets all the credit for the rise of efficient offshore wind farms, there's a lot of potential brewing in Asia — especially in countries that already have active land-based wind power.
China has already built so many inland wind farms on land that it has more capacity than its interior population can use — which frequently idles many turbines. Coastal cities, however, are much more hungry for power, so offshore wind is still a priority.
South Korea's first offshore wind farm is set to be commissioned later this year, with 10 turbines near Jeju, an island south of the nation's mainland. Japan has a smattering of small offshore wind farms and plans for innovative floating platforms, and Taiwan is getting into the offshore-wind game as well.
We're also excited about the potential for offshore wind energy in India, Singapore, and Indonesia. Here's a quick look at what's happening with offshore wind and marine renewables in each of them:
India
India's 4,600 miles (7,500 km) of coastline present abundant opportunities for offshore wind development. The world's most populous democracy already has a goal of producing 60 gigawatts of wind power by 2022, but offshore wind farms are still years in the future.
Sarvesh Kumar, chairman of the Indian Wind Turbine Manufacturing Association, said in an interview with LiveMint.com that he expects India to be ready to implement offshore projects by about 2020.
Meanwhile, India's power needs are exploding. As more of its 1.3 billion people move into cities, power demand is expected to quadruple by 2040, according to the International Energy Agency's "India Energy Outlook 2015."
Experts are already scoping out the potential of the coastlines of Gujarat on the west coast and Tamil Nadu in the southeast.
Singapore
The city-state at the southern tip of the Malay Peninsula is well-known for its innovations in finance, industry, and technology. All those assets are coming into play as Singapore ramps up its focus on renewable energy sources.
In one of its most fascinating renewables initiatives, Nanyang Technological University is building an energy plant that combines elements of solar, tidal, wind, and power-to-gas technologies in a demonstration project that could potentially bring cheap electricity to remote islands with small populations.
The project will develop four microgrids that can provide about 1 megawatt of power, enough for a small community living in an area with abundant sea resources. It also could be an emergency energy source.
Though Singapore's topography makes it unsuitable for domestic wind power generation, many global companies in the wind-power sector have set up Singapore offices to take advantage of its access to capital and technologies. So don't be surprised to see the city-state come up in renewable-energy discussions.
Indonesia
Microgrid developers no doubt had Indonesia on their minds, given that the archipelago has more than 900 inhabited islands. The nation's far-flung population complicates its renewable-energy potential, but it's still aiming to ramp up its commitment to green energies, including wind power.
Indonesia's opening forays into wind power are ramping up on land, with the Danish company Vestas supplying turbines to a 60-megawatt wind farm in the province of South Sulawesi. All those islands have potential for developing offshore wind as well — a fact not lost on the European firms working to get a toehold in Indonesia.
Meanwhile, a tidal energy project in Indonesia uses a novel approach: attaching underwater turbines to a floating bridge. The Palmerah Tidal Bridge will install tidal turbines close to the water surface where there is more water movement — and hence more energy potential — than turbines installed on the sea floor.
Asia showing the way forward
The rising economies and growing populations of Asia will place ever-increasing pressure on the region's energy systems. Indeed, forward-looking Asian nations have developed ambitious renewable-energy goals that will require substantial expertise and capital investment.
The maturity of wind power in the U.S. and Europe combined with the massive growth in China mean there's plenty of renewable energy expertise across the region. It'll be incumbent on entrepreneurs, financiers, and governments to find common ground to take advantage of these opportunities.