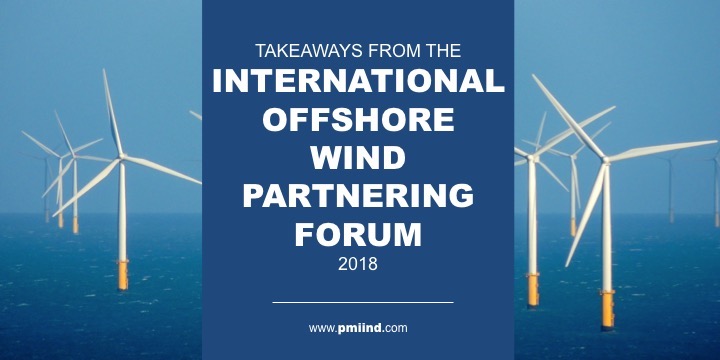 The PMI team had a good week attending the recent International Partnering Forum for Offshore Wind in Princeton, NJ.  The exhibit hall, networking opportunities, and especially the B2B meetings with supply chain partners were great opportunities to meet with other developers, cable manufacturers, contractors, and installers.
While this conference doesn't have as much of an international draw as some other tradeshows, it still provides a worthwhile meeting for domestic innovators and leaders in the Offshore Wind industry.
Many of PMI's products are versatile and are valuable for use in offshore wind, along with other sectors including marine engineering/operations, telecommunications, and the renewable energy market. Meeting with engineering, construction, manufacturing, and consultant companies gives us a great opportunity to show how PMI's "No Tools/Prep Required" cable products can eliminate many of the stressors associated with subsea and offshore cable operations.
Much of the conference buzz revolved around the excitement at the increasing opportunities for renewable offshore wind projects in the United States. (Several upcoming projects seem to be located around the East Coast: New Jersey and Massachusetts.) Offshore wind farm possibilities are also becoming more of the norm. In the midst of all these advances, however, is the need to develop solutions for "lighter" and less costly cable solutions.
While meeting with some of the leading, innovative companies, we were able to learn about the industry's most pressing issues and challenges related to offshore and subsea cable operations and explore how PMI could assist with their efforts, such as working to minimize the damage to inter array and export cable installation and post damage cable repair.
PMI is proud to be a part of such an innovative industry, and has a proven track record for delivering market solutions such as these for over 50 years.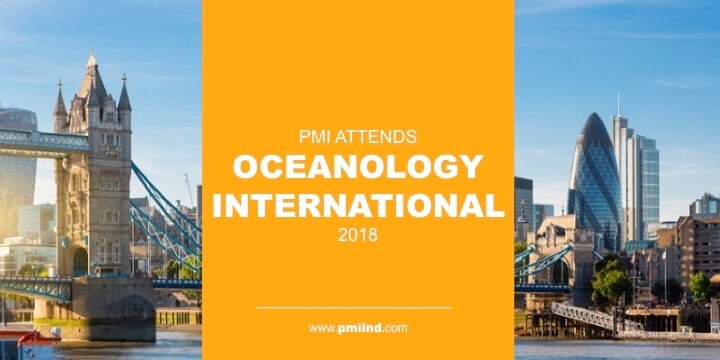 The Oceanology International conference covers such a wide range of industries, all with the common mission of measuring, developing, protecting, or operating in the world's oceans, providing lots of room for potential collaborations and idea sharing among market leaders.
Being a conference with numerous offshore/subsea market leaders in attendance, it provides an opportunity for attendees to become inspired by new advancements within the industry and develop new customer relationships. Of particular interest to our team were new equipment and companies that acquire, transfer, and store data and analytics technologies.
We also noticed many oil spill company leaders were in attendance, which was interesting to see the continuing developing partnerships and collaborations between the marine technology companies and the oil and gas sector.
Through the bustling exhibit halls and between sessions, we had the opportunity to talk with multiple attendees about the economic status of some of these new markets. One thing most sector leaders agree on is that the market will eventually bounce back—but the one unanswered question is still a matter of when.
Much of the conference buzz also surrounded themes around autonomous unmanned vehicles (AUVs,) oil spill equipment, remote operated vehicles (ROVs), and various new software opportunities pertaining to data management.
The ever-growing capabilities of unmanned vehicles, along with industry applications, communications, and data are driving further advances in the ways that we collect information and work within the oceans.
With nearly 500 exhibitors from dozens of countries around the world, Oceanology International gives PMI a unique opportunity to meet with companies and discover their innovative solutions to today's marine technology challenges. It also provides a great opportunity to share about our innovative subsea cable technologies and to create new partnerships and collaborations.
PMI is positioned well within this field given the application of various cable solutions such as our no tool or prep required cable strain relief systems (BSRs), synthetic cable terminations, and 3rd party cable testing capabilities which provide much needed services to the a wide range of markets who are associated with ocean work. Our custom cable subsea systems and deep subsea cable expertise explain why companies around the world count on PMI. When you've got a lot of ocean in front of you, you need PMI behind you.
See you back in London for Oceanology International 2020!