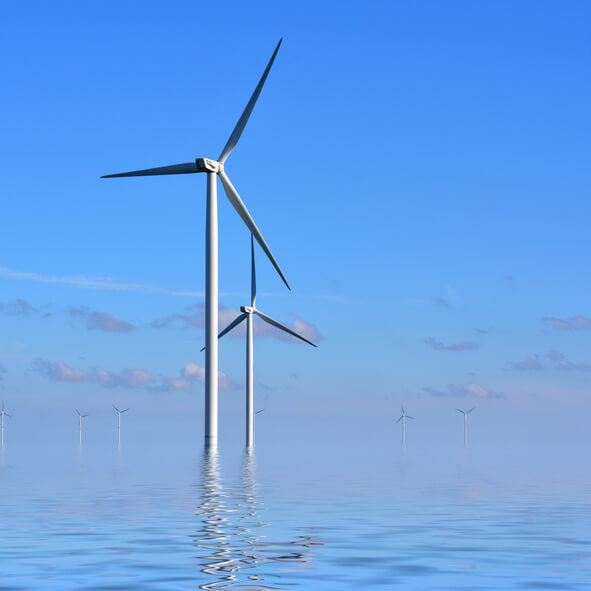 Server farms are increasingly crucial to the success of wind farms — offshore and otherwise. Data scientists armed with cloud-hosted analytics applications and tower-based telemetry can track every minute in the life of a wind turbine.
This is especially crucial in the rugged offshore environment, where storms, corrosion, sea life and everyday wear and tear test the survival of offshore wind turbines.
Today we'll take a quick look at why analytics — the sciences of measurement and analysis — are so important to the evolution of offshore wind power.
Data science and predictive maintenance
Thanks to innovations in data science and cloud computing, wind farm operations can create complex models that cross-reference and correlate the effects of wind, weather, and wear in ways that were unimaginable a decade ago.
The great challenge with offshore wind comes down to trimming the massive installation costs and preventing costly equipment breakdowns. With improvements in analytics-driven predictive maintenance, offshore wind installations will get even better at tracking when key parts are due to fail and replacing them before an expensive breakdown.
The benefits of this deep dive into data analysis are two-fold: trimming operating costs, and showing system designers the best opportunities for higher efficiencies in upcoming generations of towers and turbines.
Land-based wind power is already price-competitive with mainstream energy sources in many markets. Precise analytics will be one of the keys to helping offshore wind farms equal that performance.
Wind-monitoring devices
The Belgium-based Offshore Wind Infrastructure (OWI) Application Lab is testing a broad range of technologies to help offshore wind operators exploit the advantages of advanced data science.
One of their experiments proved that a floating platform can use LIDAR (light detection and ranging) devices to track offshore wind patterns. Essentially, it's the same technology police use to nab speeding drivers: Pointing a laser beam at a specific area and measuring the motion in the area where the light beam hits.
LIDAR is excellent measurement technology on land. But making it work on water has been cost-prohibitive, OWI Application Lab says. That's why the successful test of a floating LIDAR, or FLIDAR, prototype a few years back was such welcome news.
"The profitability of offshore wind farms depends heavily on the ability to predict and deliver maximum power output at competitive costs," OWI Application Lab says. "Reaching this optimum first requires an in-depth knowledge of the wind resource."
With analytics, windfarm operators can fold extra-precise wind measurements into their overall operating models to make even better predictions about the lifespans of their turbines.
Measuring the prospects of offshore wind
At PMI, we know the benefits of using advanced technologies to create products tough enough to withstand the attacks of weather and corrosion at sea. Science and engineering make it possible for to build some of the world's best subsea cable accessories.
That's why we're so optimistic about the prospects of analytics and data science to make renewables like offshore wind more price competitive in the years to come. In a warming world, it can't happen too soon.
Related articles: