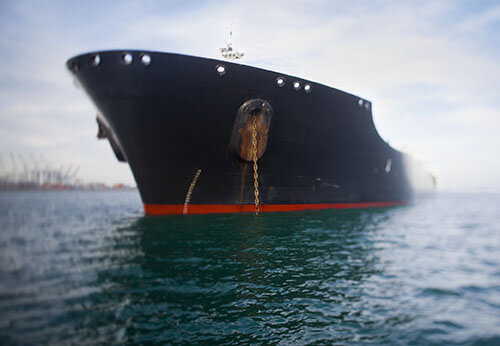 A new ship in the fleet of Petroleum Geo-Services (PGS) suggests low oil prices haven't closed the spigot of innovation in deep ocean engineering.
A naming ceremony in Nagasaki, Japan, in mid-March celebrated PGS's acquisition of the Ramform Tethys, a new seismic data acquisition ship that's brimming with the latest 3D and 4D technology for seismic projects that bounce sound waves off the sea floor to find untapped supplies of crude oil.
Built by Mitsubishi Heavy Industries Shipbuilding at a cost of $285 million, the Tethys is the third Ramform Titan-class vessel in the PGS fleet; the first two were finished in 2013-2014 and the fourth will come to sea in 2017. Titan-class ships have a distinctive triangular hull that's 104 meters long and 70 meters wide at the stern — the widest hulls currently at sea, PGS says. The extra-wide stern looks a bit odd on the sea, but it has huge benefits for towing streams of sensor arrays and providing extra stability for the crews scanning the data pouring in from those arrays.
"The Ramform Tethys like her Ramform Titan-class sisters is well adapted to the prevailing economic environment," PGS says on its website. "Her operational cost per streamer is the lowest around, while the resolution and reliability of the dual-sensor, broadband GeoStreamer data she produces is by far the best currently available."
The Titan-class ships in the PGS fleet use an impressive amount of underwater cable hardware. The Tethys can carry 24 streamer reels: 16 reels aligned abreast and 8 reels further forward, with capacity for 12-kilometer streamers on each reel. That enables an array with hundreds of thousands of sensors spread over an area of 12 square kilometers — nearly 3,000 acres or more than triple the size of New York's Central Park.
The new ship makes it faster and easier to deploy and retrieve cable hardware for subsea explorations. That allows surveys to be completed much sooner and ships to stay at sea longer in the calm times between ever-present storms on the high seas. That equals greater efficiencies that can be passed along to PGS clients.
"Productivity, safety, stability and redundancy are the key benefits of these vessels," said Per Arild Reksnes, executive vice president for operations at PGS, which is based in Norway. "Their ability to tow many streamers gives high data quality with dense cross-line sampling and cost-efficient acquisition with wide tows."
The Ramform Tethys has six engines producing 26.4 megawatts of power, and carries over 6,000 tons of fuel and equipment. The fact that companies are still buying ships of this size and complexity demonstrates that even with severe economic challenges across the oil sector, people will still see the wisdom of investing in better technology.
---
Discover how other Oil & Seismic companies are finding ways to save on fuel and cost in our Free Hydrodynamic Efficiency report.