We are proud to announce that after an external audit, the Quality Management System of PMI Industries, Inc. has been assessed and approved by Smithers Quality Assessments, Inc., to the following quality management system standard and requirements: ISO 9001:2015.
This certifies that our Quality Management System is applicable to design, manufacture and distribute offshore, subsea cable hardware assemblies, and provide testing services. Which demonstrates our commitment to our Quality Policy Statement:
PMI Industries, Inc. provides offshore, subsea cable hardware and assemblies that increase efficiency, reduce failures, and improve installation and deployment time. We are committed to meeting customer expectations, and all applicable requirements, through continuous improvement of our processes. Our advantage is delivering quality, on-time and cost-effective products and services.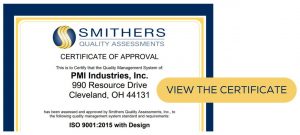 Since 2017, PMI has partnered with Smithers Quality Assessments, an accredited quality and environmental management systems certification body, to achieve certification.
"This certification reflects our longstanding commitment to quality, continuous improvement, and our customers," said Bob Centa, President of PMI Industries, Inc. "It demonstrates the significant effort by the PMI team to continue to uphold the ISO standard throughout the company."
PMI, celebrating a history of 39 years in 2023, is a global leader in engineered solutions for underwater marine cable connectors and terminations, including assemblies and hardware. The solutions that PMI designs, manufactures, and tests are used on cable systems for impact and abrasion protection, to prevent bending and provide strain relief, and for dynamic and static cable protection. 
Our products include high-strength cable terminations and gripping products, towed array and seismic survey lead-in and umbilical terminations, and suspension cable assemblies and hardware.
Our engineered subsea cable hardware assemblies are designed for the following:
US Navy & Defense Contractors

Oil & Gas

Marine & Seismic Survey

Ocean Exploration & Research

Offshore Wind, Wave, and Tidal

University and Research Institutes