Armor Rods

Armor Rods for Maximum Subsea Cable Protection
Armor rods are ideal for the protection of submarine cables, hoses, and umbilicals used in a variety of oceanographic applications.
Features:
Easy wrap-on helical design allows installation at critical segments of the cable
Effective where chafing, abrasion, clamping, and bending may be present
Multiple layers provide controlled bending stiffness and increased bend protection
Mid-span applicable, access to cable end is not required
Product Description
PMI Armor Rods are precision formed, field installable helical rod sets that provide cable protection against abrasion, cuts, crushing and handling damage. They can be easily installed by hand anywhere along the length of the cable.
Applications
For protection of buried and unburied cables

Power cables
Communication cables
Towed cables

For use as filler rods or lashing rods
Used by Oil & Gas industry, Renewables, Military, and Oceanographic industry customers
Added wright helps to ballast cables
Features and Benefits
Field installable by hand, requiring no special tools
Available in a wide range of sizes and lengths to meet almost any application, can fit around sheaves and winches
Can be placed anywhere along the length of the cable and intermittently to protect the most critical segments of your cable
Multiple layers of differing lengths can provide bending stiffness and increased protection from external damage
Standard Armor Rods are made of galvanized steel. Stainless steel and other corrosion resistant materials available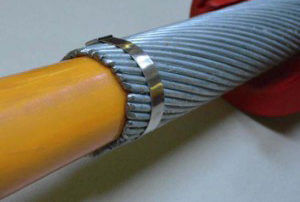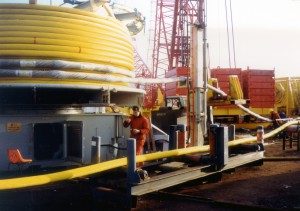 Armor Rods
Armor Rods are built to close tolerances. To ensure satisfactory results, specify
Cable or rope diameter
Lay direction of outer strength member
Length requirements

PMI Armor Rods
A partial list of Armor Rods are shown in the table. For diameters and length options, and for use on jacketed and synthetic cables, please contact PMI.
| PMI P/N | CABLE RANGE (MIN - MAX) | OVERALL LENGTH | LAY DIRECTION |
| --- | --- | --- | --- |
| 9100010 | 18.9 - 20.3 mm (0.744 - 0.801") | 7.3 M (288") | LHL |
| 9009458 | 19.9 - 21.4 mm (0.783 - 0.844") | 2.2 M (85") | LHL |
| 9100228 | 20.7 - 22.2 mm (0.813 - 0.874") | 2.3 M (90") | LHL |
| 9100006 | 26.6 - 28.7 mm (1.048 - 1.128") | 2.4 M (96") | LHL |
| 9009019 | 33.8 - 36.3 mm (1.330 - 1.428") | 3.0 M (119") | RHL |
| 9007422 | 36.1 - 38.6 mm (1.420 - 1.520") | 7.5 M (297") | LHL |
| 9007752 | 52.6 - 56.7 mm (2.071 - 2.231") | 3.2 M (126") | LHL |
| 9006674 | 62.9 - 67.7 mm (2.476 - 2.667") | 7.5 M (297") | LHL |
| 9007753 | 64.4 - 69.4 mm (2.536 - 2.731") | 2.9 M (116") | LHL |
| 9008733 | 65.2 - 70.2 mm (2.568 - 2.765") | 3.4 M (135") | LHL |
| 9009464 | 65.8 - 70.9 mm (2.590 - 2.790") | 6.0 M (236") | LHL |
| 9008969 | 68.9 - 74.2 mm (2.714 - 2.923") | 1.6 M (64") | LHL |
| 9100009 | 68.9 - 74.2 mm (2.714 - 2.923") | 4.2 M (165") | LHL |
| 9009018 | 70.2 - 75.3 mm (2.762 - 2.965") | 3.0 M (119") | RHL |
| 9100008 | 103.8 - 111.8 mm (4.086 - 4.400") | 4.6 M (182") | RHL |