Independent Cable Testing

Independent Testing Services for Cable, Hardware, and Devices
Ensure Survivability of Your Cable System at Sea
Typical at-sea conditions can cause catastrophic failures to your cable system. Our testing facility is fully equipped to simulate service conditions experienced by underwater cable systems and devices. Performing extensive laboratory testing can help you identify potential problems prior to use.
PMI's specialty is to provide insight into the interaction between the strength member and attached hardware or the complete cable assembly. We will test all or any part of your project:
Raw Cable (Metallic and Synthetic Strength Members)
Rope and Hose Assemblies
Cable Assemblies
Cable Hardware
Terminations
and More
Testing services can be uniquely tailored to meet your needs:
Evaluation, qualification, design verification, and acceptance test programs
Continuous monitoring of power and signal conductors and optical fibers throughout testing
Certification and qualification to meet government, commercial, institutional and international standards
Standardized test methods and test report format IAW ANSI Z39.18
Confidential results and on-site record retention
Tension
Break Strength
Test Load vs. Elongation Data
Proof Load Certification
Dynamic Load Simulation
Fatigue and Retirement Criteria
Cable Design Verification/Qualification
Certification of Cable Assemblies
Pretensioning of cable prior to terminating
Hydrostatic Pressure
Simulate At-Depth Pressure Loading
Verify Seal and Electrical and Optical Performance
Bending
Static and Dynamic Cable Qualification
Simulate Handling System Problems
Qualify Cable Fairing and Hardware
Verify Wet/Dry Fatigue Performance
Cable Jacket Abrasion Tests
Simulate Tow Point Dynamics
Fatigue Testing
Design Qualification
Measurement and Analysis
Tension vs. Torque
Tension vs. Rotation
Torque Balance verification
Cable Qualification
Verify "Non-Rotating"
Test for Twist Resistance
Torque Restraint Testing Verification
Monitoring & Measurement of Conductor and/or Optical Fiber Performance
Learn More
---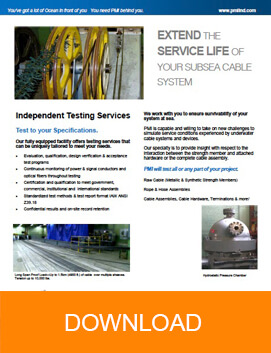 If you're interested in PMI's testing facility and services, schedule a free consultation to learn more.